The year we had our son, Ren, we were in over our heads with an extensive home renovation! Although we had planned to finish before his arrival, real-life had other plans and we didn't get to move back in until he was almost four months old! Needless to say his nursery was put on hold!
Although it took us some time to settle into our home again and get a room prepared for Ren, I'm happy to say I did get it done… before his first birthday! Haha! And in all honesty for those first time expecting moms out there, the room isn't all that necessary so don't stress! We survived without a crib or a changing table for about 4 months!
I think we all know the nursery is of least importance when preparing for baby but it is one of the most fun parts of the experience! I remember wishing I had a room to decorate during my nesting phase. Instead I took to Pinterest and dreamt of the space I would one day have for the new baby.
Most of the spaces I originally pinned were very gender neutral because we kept our baby's gender a surprise. I actually love neutral rooms anyway and found that they fit our farmhouse style best.
Nursery Inspiration
Here are some of the rooms and themes that inspired me most: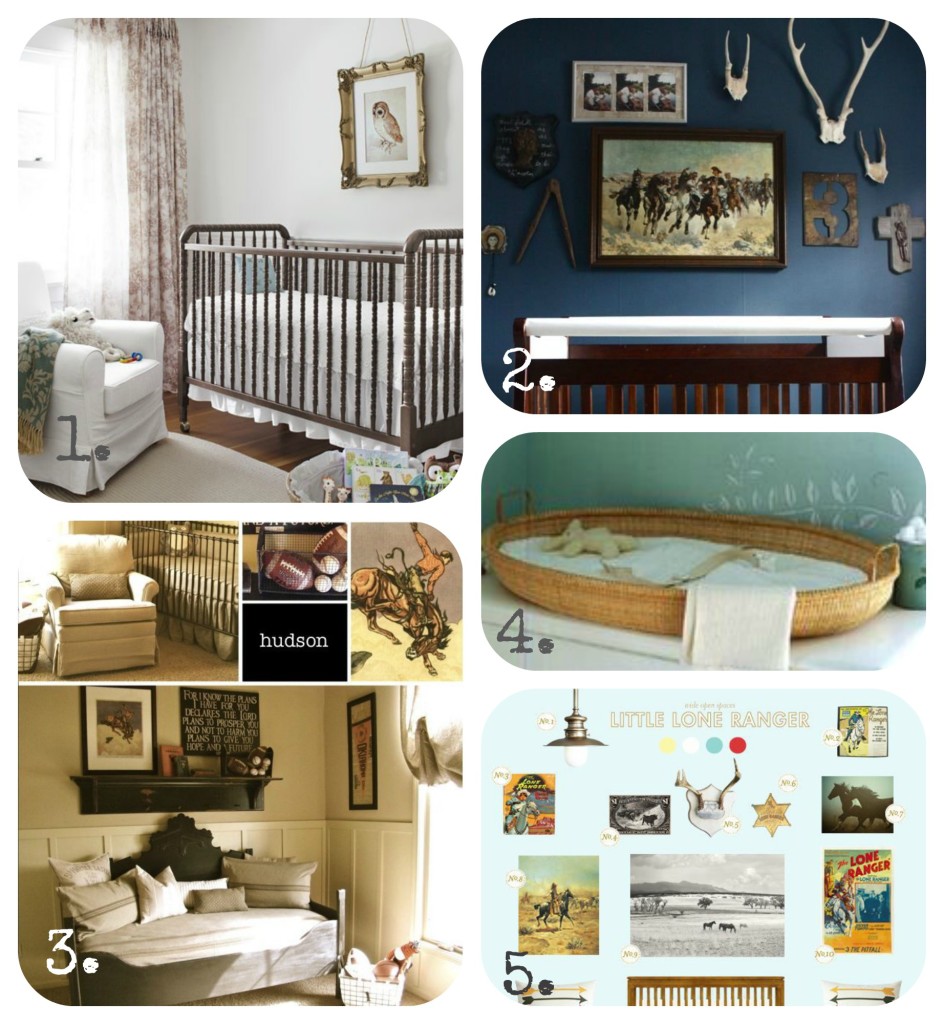 Sources
Room Reveal
After many months of only dreaming about decorating a nursery, I finally had the opportunity to furnish Ren's room. Although much of his room stayed neutral, I added in more masculine elements as I went.
Here is the finished product: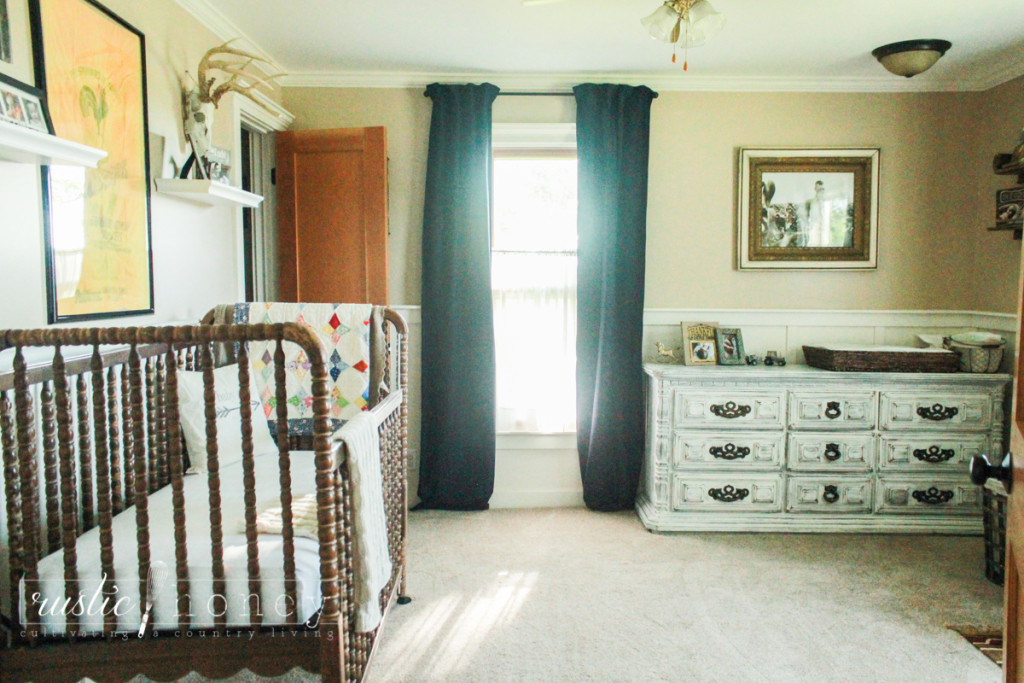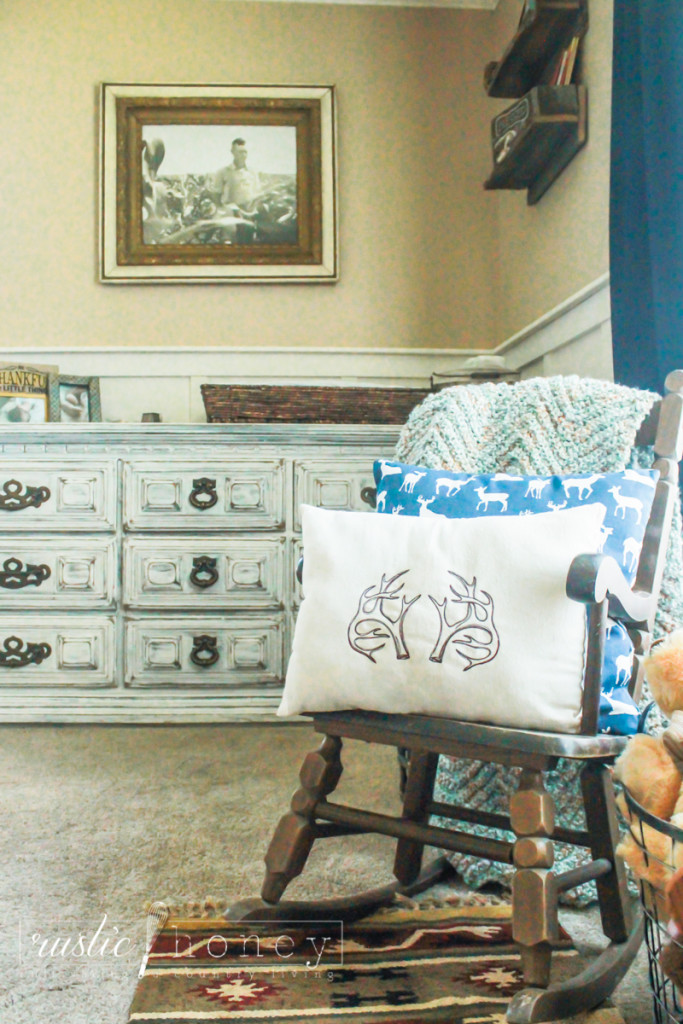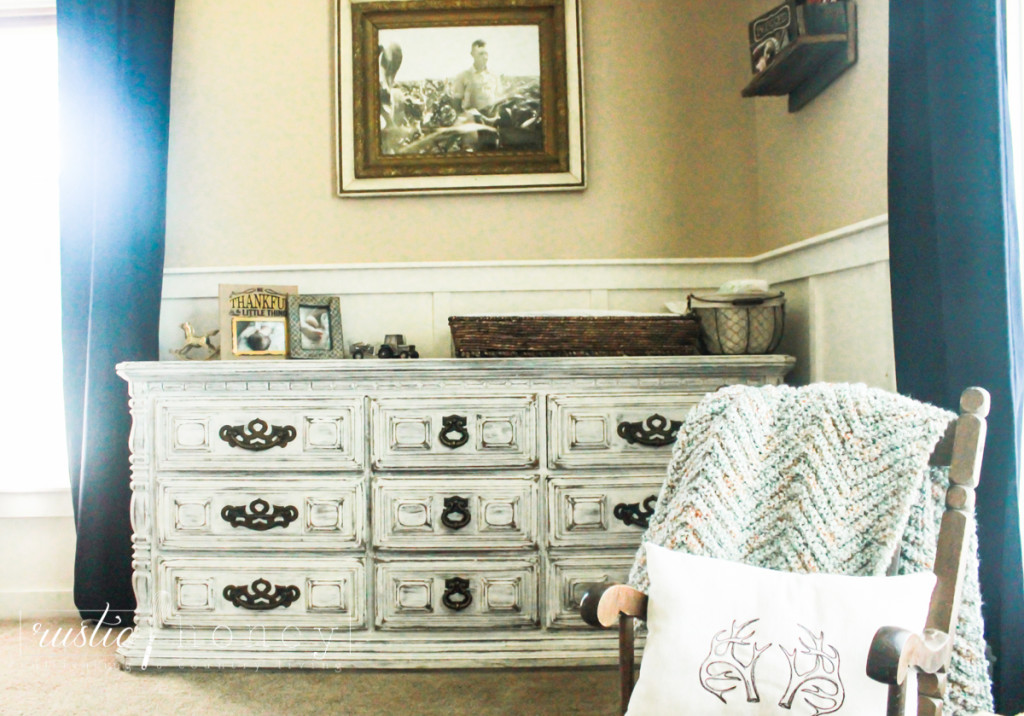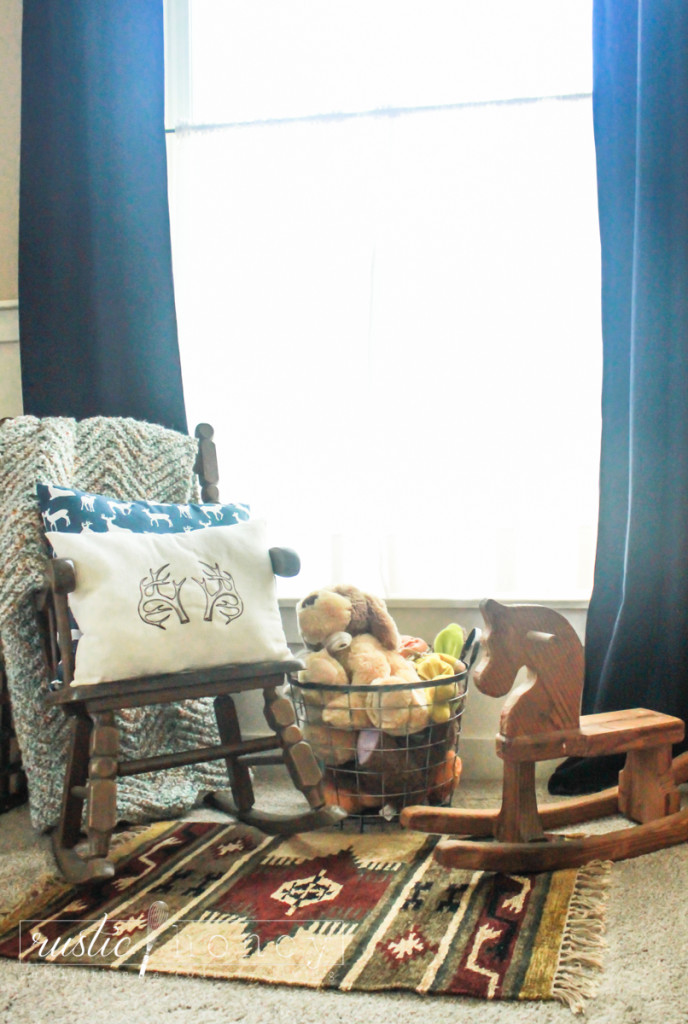 The room is full of rustic charm, antiques and some family heirlooms.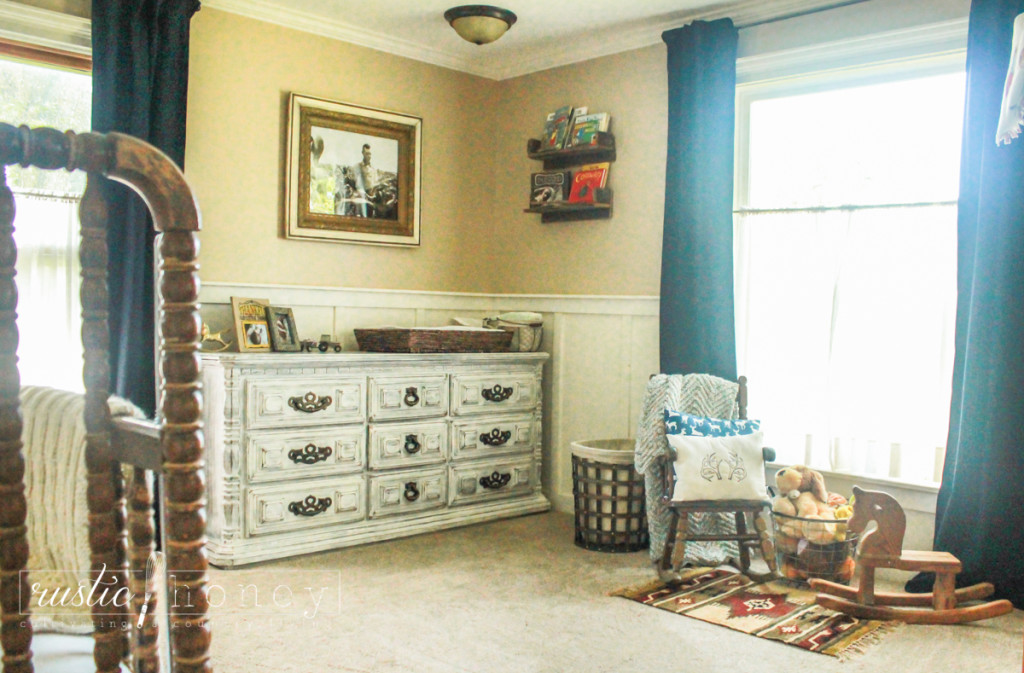 We reconstructed the crib that my husband and his brothers once slept in.
The quilt on the end was handmade and hand-quilted by Ren's grandmother.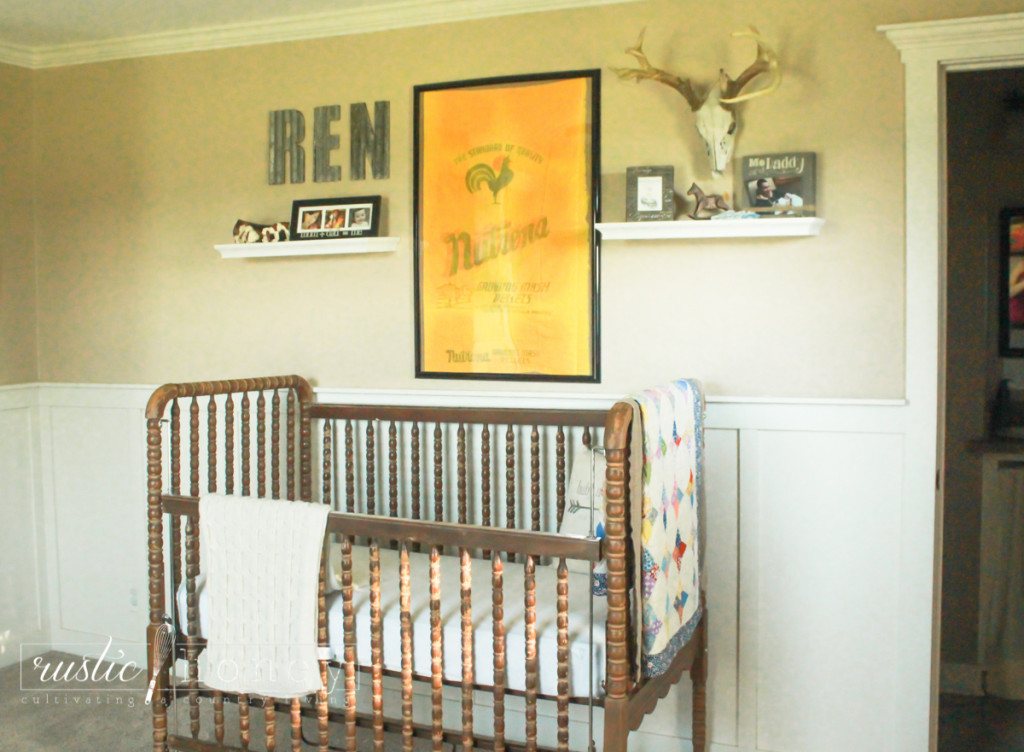 The feed sack came from my family's farm. I'm not sure exactly how old it is but it was kept in great condition thanks to my dad. (I inherited some hoarding tendencies from him! Thanks Dad!) 🙂
I love the bright pop of color!
Ren loves his room! He especially enjoys his rocking horse. It was handmade by his great-great uncle!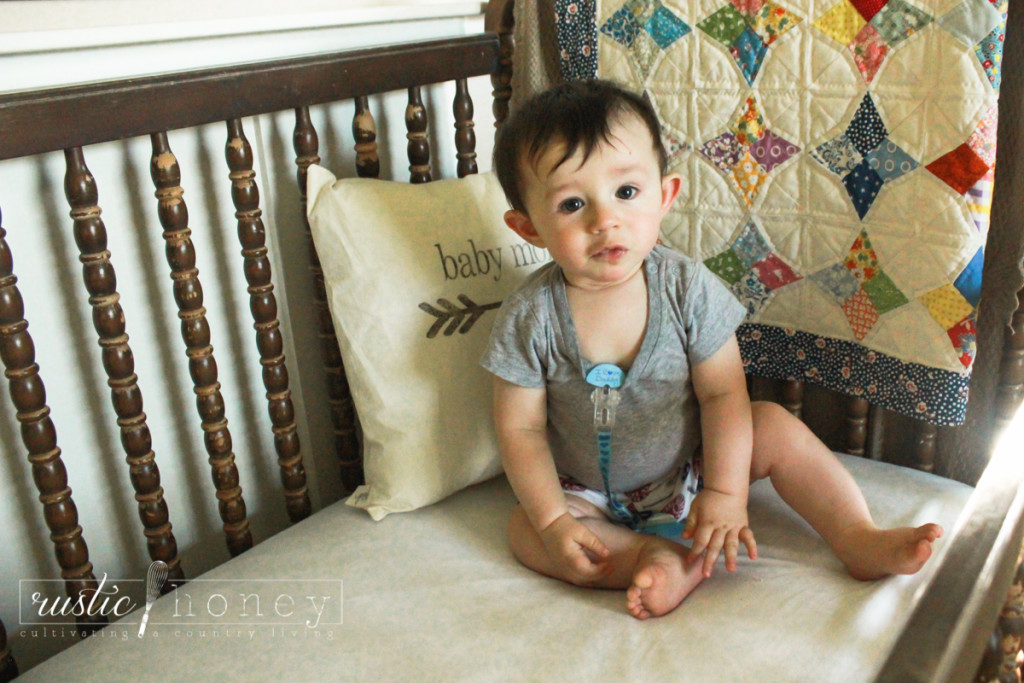 My favorite part of the entire room is an enlarged photograph of my late Grandpa. I believe this photo was taken for a local newspaper during a tough year on the farm. As you can see he is much taller than the corn in the field. This picture speaks a thousand words to me and I want to hang it in every room!
I thought it would make a great focal point on this wall and go with the other farmtiques in this room. Plus I just love old family photos – black and white has my heart!
In my opinion,  the perfect room should always include plenty of family heirlooms, something handmade, pictures that tell a story and most of all, lots and lots of love!
Thanks for reading!
-Lauren
---